Charles has served as the President of Pieper O'Brien Herr Architects since 1987. In addition to his corporate duties, he is one of the Principal leaders of the design efforts of the firm. He received his architecture degree from the Ohio State University and holds a certificate from the National Council of Registration Boards. Charles holds architectural registrations to practice in Georgia, Pennsylvania, California and 16 other states, Additionally, he is a Registered Interior Designer. He has over 40 years of design experience.

He served as President of the Society of American Military Engineers, Atlanta Chapter and as a Centennial Olympic Games, Cultural Olympic Volunteer. Charles is currently serving in his fourth term as President of the Southeast Federation of Stamp Clubs, a non-profit organization, which encompasses a six-state area. The Federation annually stages a cultural event: The Southeastern Stamp Expo in Atlanta. Charles is an award-winning author with several articles in various publications including a behind the scenes look at the creation of a library within an historic building, shown in the articles section of this website. Charles was recently inducted into the Southeast Federation Hall of Fame for his leadership, philanthropic, exhibiting and volunteer efforts.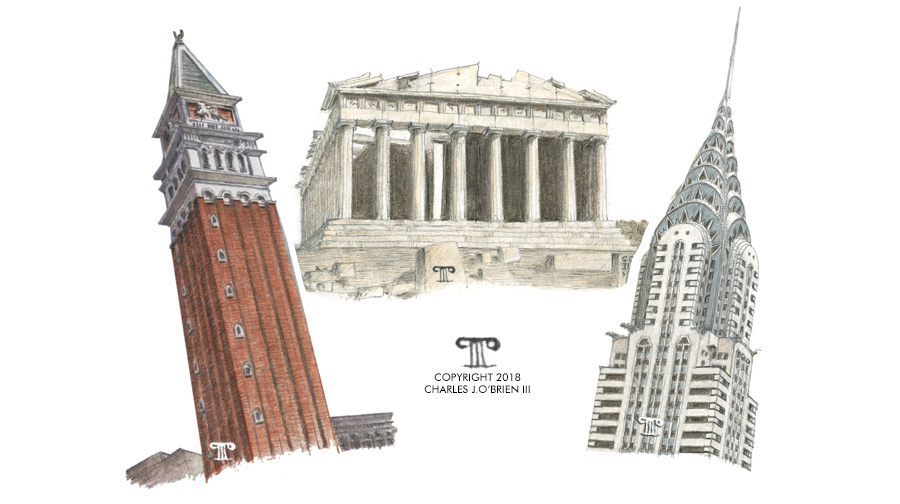 Charles enjoys color pencil sketching, especially architecture. These sketches are excerpted from his sketchbook.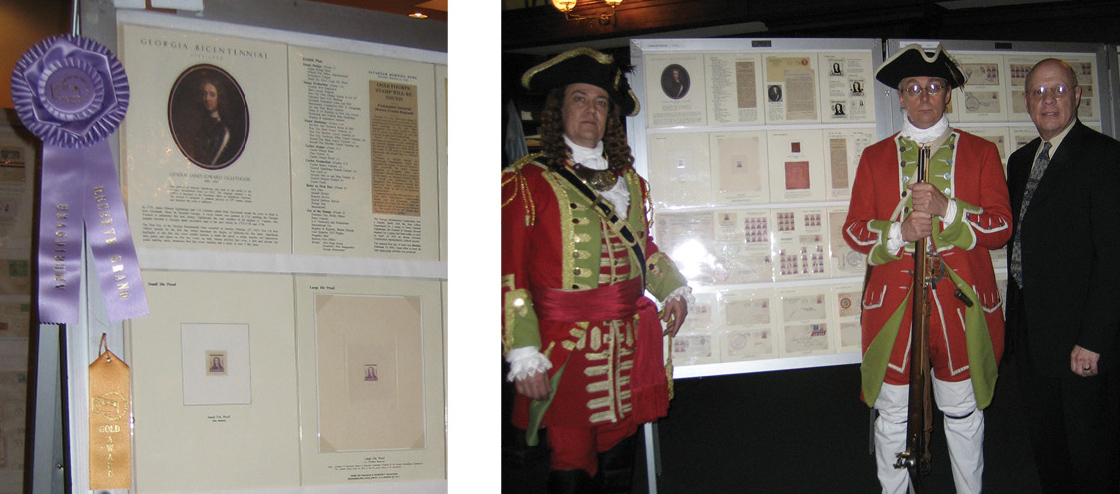 As a noted exhibitor, Charles' stamp exhibits have won best of show grand awards on ten occasions in competition throughout the United States. His grand award- winning exhibit on James Oglethorpe, the founder of the Colony of Georgia, was featured on Georgia Day at the Georgia Historical Society in Savannah. A photograph of Charles with an actor portraying General Oglethorpe and a period-dressed militia man is shown with the exhibit.

Charles, along with son, Chuck race sports cars in a vintage race series. They won the 2013 HSR Series Championship as well as two Class Championships and were selected as Co-Drivers of the Year in 2014. Simply as a hobby pursuit, the team has campaigned the same car for twenty years at some of America's greatest racing venues: Daytona, Sebring, Road Atlanta, Indianapolis Motor Speedway and Watkins Glen.

Charles recently appeared on an NBC Sports Network episode of Caffeine & Octane, a car show featuring famous marques throughout history. The filming session and retakes were interesting to participate. This episode re-airs often.