The Banks County Courthouse, built approximately 20 years ago, lacked the layered security expected within a courthouse. Modern courthouses demand the separation of judicial, inmate and public traffic flow, internal and external to the building. Pieper O'Brien Herr Architects (POH) planned a comprehensive renovation to both the interior and exterior of the Courthouse Building.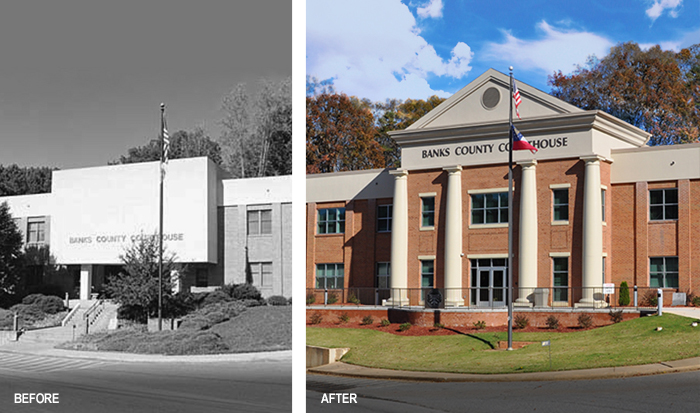 The Superior Courtroom saw extensive renovation both in form and function. The revised inmate delivery system was improved with new secure holding and direct access to the Courtroom. The new holding is positioned so prisoner paths do not cross public or Judges' circulation. The Jury deliberation room and Superior Court judge's chambers were also heavily reconfigured.
POH Architects design included renewing the Civil courtroom, Magistrate Judge, Probate Judge, the District Attorney, and the Clerk of Court suites. A vehicular sallyport was added to the facility with separate male and female holding areas. This addition was strategically located to have direct access to the secure, inmate elevator, with direct access to the Superior Courtroom holding area above.
A new front lobby was added by inclosing the previous overhang. The increased lobby space provides adequate room for the essential security screening equipment and sufficient queuing.