Pieper O'Brien Herr Architects (POH) was proud to design this flagship data center for the Atlanta-based DC Blox who is expanding their presence in Alabama. Located in Birmingham, phase one of the project began with a 33,000-SF colocation facility, which in future phases is fully expandable on a total of 27 acres. POH played a major role in the overall masterplan of the project, now being referred to as the Technology and Innovation Campus. With security and reliability being of the utmost importance, POH worked closely with consultants to meet Controlled Unclassified Information (CUI standards.) Other notable features include 20,000-SF of white space and 13,000-SF of office space, with conference rooms, demo space, hoteling cubes and workstations. The center boasts a fully-protected private network with multiple layers of security, is fully monitored, and 5MW of customer capacity in a precast concrete shell designed to withstand 150 mph winds.
Concept Model: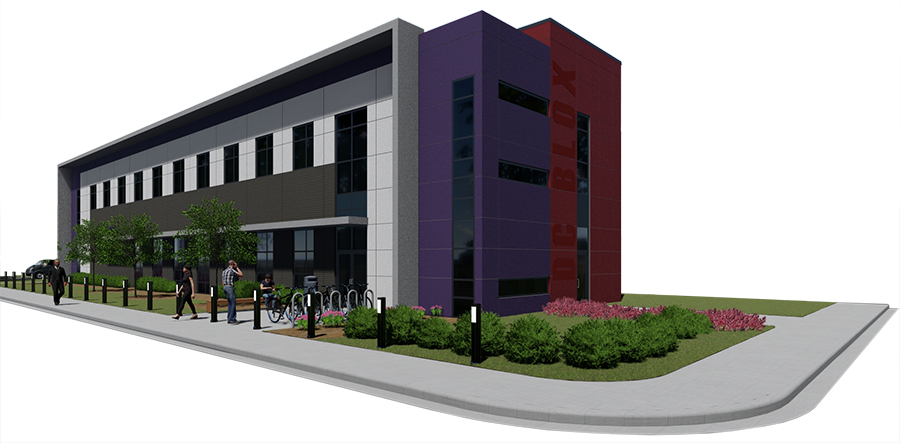 The design accentuates the contrast between the exposed industrial components and concrete structure with the most up-to-date communication, network, and security systems of today.
Jeff Uphues, CEO of DC Blox, was quoted saying, "Birmingham crossed the iron bridge to its digital future." Alabama Governor Kay Ivey, who toured the center before speaking at its ribbon cutting ceremony, said "the center will set us apart from the rest of the nation. This will put us on the map with an innovative approach for processing and housing data."
The Birmingham location is the fourth data center facility for DC Blox and the second designed by POH Architects.